The small town of Bel Air, Maryland is in shock following the gruesome death of local resident Rachel Morin. On Sunday, Morin's body was found in woods near the Ma and Pa Heritage Trail, where she'd gone for a walk on Saturday night. According to Harford County Sheriff Jeff Gahler, Morin did not take her own life, nor was her death accidental—she was the victim of a homicide.
Gahler appealed to the public for tips and leads on the case. He noted that, while investigators haven't yet determined whether the killing was targeted or random, Morin regularly walked the trail as part of her exercise routine; it's possible someone had tracked her routine. Gahler also reported that the investigation into Morin's death has so far yielded no useful video footage from the Williams Street trailhead entrance, where her car was discovered parked. Finally, he asked the public to reach out to police directly rather than theorizing on social media.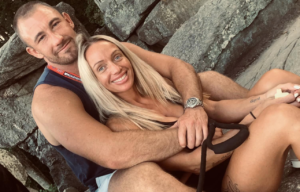 Morin's death has had a significant impact on the local community. With only 10,000 inhabitants, the town of Bel Air was known for its low crime rate and close-knit community. Now, the slaying of such a beloved resident has rocked the town's sense of safety and wellbeing.
Morin's boyfriend, Richard Tobin, has not been named as a suspect in her murder. In a Facebook post, Tobin expressed his shock and grief while denying any involvement in her death. Tobin has a criminal history including prior arrests for multiple charges including malicious destruction of property and assault. However, it is noted that he has been clean for 15 months at the time of Morin's death.
It is unclear whether the authorities have identified any suspects in this case. However, authorities are awaiting autopsy results and urge anyone with pertinent information to contact their department with a tip.