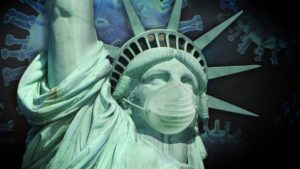 We all know that you can't go sauntering into the convenient store with no shirt on; this has been a rule among even the most backwoods variety of hillbilly for some time.  When it comes to the "no shoes" guidelines, the results are a little more mixed.
In either case, we know these rules, and we mostly abide by them without complaint.
But wearing a mask to prevent the spread of coronavirus is apparently way too much to ask.
Now, the world's most prevalent ride-sharing company is taking the decision out of the hands of their customers.
 In response to the sudden COVID-19 sweeping into different parts of the country, Uber announced it's extending its mask policy, requiring passengers and drivers to cover up "indefinitely."

As part of the company's "No Mask, No Ride" mandate, both riders and drivers in the United States and Canada will be required to cover their nose and mouth for the duration of a trip. If drivers do not have one, riders will be able to cancel their trip, according to Uber.

Ti"Extending our "No Mask, No Ride" policy is the right thing to do," an Uber spokesperson told FOX Business. "We want to send a clear message to everyone using Uber that we all have a role to play to keep each other safe."
In the early days of the COVID pandemic, there was no general consensus on the effectiveness of warning a mask, thus leading to a strange and awkward situation for many.
Norw that they are mandated, things could get really ugly.