Wow…Just…Wow.
I knew Pelosi was old but she's not that old.
During a fundraiser where the former Speaker of the House of to speak President Joe Biden took the stage to introduce her. The President attempted to compliment the former Speaker of the House but ended up insulting her.
According to Joe, Pelosi "helped rescue the economy in the Great Depression."
Partial Transcript from the White House transcript:
Biden: Nancy Pelosi is going to go down in history as one of the most consequential speakers in the history of the United States — (applause) — not merely because she's a woman — because she's so incredible. She's such a —

Audience Member: Woo!

Biden: No, no — with Nancy leading the way, you never had to worry about whether the bill would pass. If she said she had the votes, she had the votes every time. (Applause.)

And she had to vote so many lifechanging pieces of legislation.  She helped rescue the economy in the Great Depression; pass the Affordable Care Act; ended Don't Ask, Don't Tell.
BIDEN: Nancy Pelosi "helped rescue the economy in the Great Depression." pic.twitter.com/HMDnXfM0yB

— Townhall.com (@townhallcom) May 23, 2023
Below is a screenshot: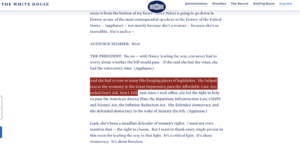 Pelosi, 83, is older than Biden and she was born in 1940. The Great Depression lasted from 1929-1941.
The embarrassing gaffe comes just a day after Hillary Clinton made national news being concerned about Biden's age.
When asked about the President's age and how he avoid an almost serious tumble overseas she said Biden's age is a "concern for anyone."
"It's a concern for anyone," she answered, noting that "we've had presidents who had fallen before who were a lot younger, and people didn't go into heart palpitations."
"I am of the camp that I think he's determined to run; he has a good record that, three years ago, people would not have predicted would have gotten done," Clinton said.
According to her, "He doesn't get the credit yet that he deserves for what is happening out in the country in terms of jobs and growth and planning for the future with CHIPS and other stuff."
"I obviously hope he stays very focused and able to compete in the election because I think he can be reelected, and that's what we should all hope for," she added.