President Biden and his administration were completely humiliated by a balloon.
Over the weekend, we learned that Biden knew about the balloon for most of the week and claimed to the military the thumbs up to shoot it down. However, the military decided to wait because they were worried about it causing damage to homes.
By Wednesday, the balloon was over Montana, home to Malmstrom Air Force Base, which has fields of nuclear missile silos.
We've now learned that they knew the balloon was coming but they didn't want to shoot it down because the Department of State had a scheduled meeting with China.
Joe Biden knew the Chinese spy balloon was coming.

Tried to hide it from the American people.

Let it fly across the ENTIRE COUNTRY.

And only after the entire country begged him to act, our great military shot it down.

Embarrassing. Scary. Sad.

— House Judiciary GOP (@JudiciaryGOP) February 4, 2023
There was no way around the fact that the balloon debacle humiliated the entire Biden administration.
So in response, they tried to claim that the same situation occurred during former President Trump's time in office.
"And we're also told, by the way, that this happened three times under the previous president," ABC News Jonathan Karl said. "Obviously, there were no public notifications there."
Below is a transcript of a phone-in press conference with briefers to be attributed "as a 'senior defense official,' and (inaudible) whose comments you may attribute to a 'senior military official.'"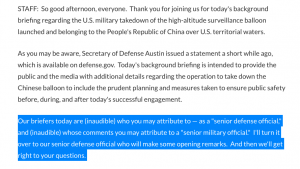 In other words the press had no clue who was giving them the information:
PRC government surveillance balloons transited the continental United States briefly at least three times during the prior administration and once that we know of at the beginning of this administration, but never for this duration of time.  We spoke directly with Chinese officials through multiple channels, but rather than address their intrusion into our airspace, the PRC put out an explanation that lacked any credibility.
Their little misinformation scheme didn't work. Several former Trump officials immediately rejected the claim and told the officials to prove that it happened.
Ask yourself why @jonkarl would quote an anonymous official when every senior national security official in the Trump Administration is on the record saying Jon Karl is wrong. @abc has a serious credibility problem with Karl.

— Richard Grenell (@RichardGrenell) February 5, 2023
The claim was so audacious that even CNN wouldn't touch it. Especially after the Pentagon won't officially respond to the claim even though it was one of their people that spread the information.
We all know that Trump couldn't pass wind without it being leaked to the press, and find it hard to believe something like that wouldn't get leaked.
Instead, this seems to be the talking point the establishment is pushing…
For all the mouth breathing nonsense and craven posturing we've endured, this was handled with textbook competence. We watched this thing and its capabilities and then took it down where it was safe and maximally recoverable for CI purposes. Ours now. https://t.co/PdzJqET5tT

— Jim Himes 🇺🇸🇺🇦 (@jahimes) February 4, 2023
If you read the transcript above (it is linked), you'll notice two things.
First, not one reporter (even the one from Fox News) who was on the call with this anonymous official pushed back and asked about the incidents during the Trump presidency. Secondly, from what we read, the Pentagon determined that the balloon wasn't gathering any information that couldn't be obtained via satellite.
We don't know what the "determination" process consists of, but it could mean they have no idea what that balloon was capable of until they look at it.